Alright, so I decided to run this again this year since I couldn't last season due to my move in the fall. I sent out emails via Yahoo to those of you that I could.
Click this link or use the information below to sign up:
http://football.fant...ssword=tgprocks
TGP IDP (ID# 201319)
Password: tgprocks
Rosters:
QB, RB, WR/TE
DB, DB, DB
DL, DL, DL
LB, LB, LB, LB, LB
BN, BN, BN, BN, BN, BN
Scoring: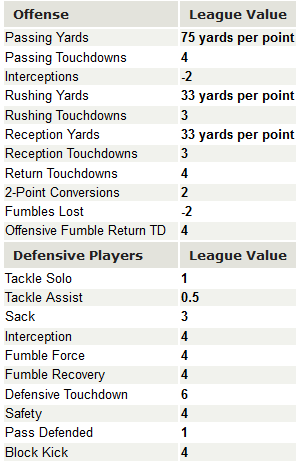 We'll be doing a live draft, hopefully. I'm not free on weekend nights, but we should be able to find a time that works for everyone, just need to get everyone signed up and then discuss it.